My sister Mary celebrated her 30th birthday last week, and we planned festivities for her here in the valley, including a parade of birthday cakes over a four-day period.
I made two of the cakes. Mary's favorite color since she was a little girl has always been orange, and I was determined to create a nontoxic cake involving lots of orange.
In the past, I've made deep red frosting with butter, sugar, and beet juice, and I've played around with various spices (tumeric, paprika) to color foods, but they add their own strong flavor and aroma to whatever you are coloring. I already had a very specific flavor in mind (cinnamon rum butter cream) for the icing, so I faced a challenging task: achieve orange without compromising flavor.
Why not just squirt in some red and yellow food coloring from the little box of brights you can buy in your supermarket? Well, to start with, I like a challenge. But I also like to provide a birthday cake that does not contain known carcinogens and/or fossil fuels. Plus, I wanted ingredients from our garden to be incorporated somehow.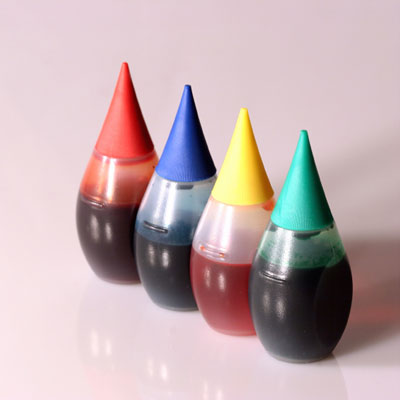 Have a little coal tar with your cake!
The seven main food-dying agents approved for dying food in the US are all toxic -- most are derived from
coal tar
and the couple that are not are synthetic. Coal tar in my food? No thanks! Confirming the intuitive, common sense notion that ingesting coal tar is probably not good for us, studies have shown that coal tar-based food colorings are carcinogenic. Commercial food colorings are also known to cause allergic reactions, and I would argue that whether we notice an "allergy" or not, our bodies are not meant to process coal tar or synthetic dyes.
In my search for natural food coloring ideas, I came across an interesting summary of old-timey food colorings from Elise Fleming, compiled from cookbooks dating back as far as 1380:
natural food colorings of yesteryear.
Of course the idea of squirting coal tar or synthetic dye into food is a relatively recent notion, and the old fashioned ways were not only healthier but much more romantic as well (pressing rose petals, for instance).
But back to the task at hand. Carrots were the obvious orange ingredient, and at first I thought of grating them. But the thought of chunky frosting with recognizable carrot pieces in it did not seem like it would fly with the intended cake recipient. Instead, I tried juicing a carrot and stirring that into the icing with a little cinnamon and extract of rum. Viola! It wasn't safety zone orange, but it was definitely orange. I brightened it up by using grated orange zest and tiny flecks of carrots (conveniently left over from the juicing process) like sprinkles.
I used carrots that we grew plus homegrown nasturtiums & zinnias as garnishes, so the garden was well represented. Starfruit added more pizazz, and were in the right color family. The flowers almost didn't make it onto the cakes, because we had our first two nights of freezing weather this weekend. But we managed to protect the tender plants through the first frosty nights, long enough for them to contribute to the festivities.
Here's how the cakes turned out:




















Saturday night's cake (above) and it's sister
Sunday brunch
cake (below).


Both are vegan double chocolate mocha cakes (recipe below) with cinnamon rum butter cream icing.

They're garnished with nasturtiums, zinnia, starfruit, finely chopped candied ginger, carrot flecks, and orange zest.

Sunday's cake also features local limbertwig apples dipped in dark chocolate.

The recipe for the cake is one that I actually got from my sister Mary (the birthday celebrator) some years ago. I added a cup of chocolate chips to make it

double

chocolate.


Mary's Famous Ultra-Moist Vegan Mocha Cake


3 cups unbleached all purpose flour
2/3 cup unswee
tened cocoa powder
1 tsp. baking soda
1 tsp. salt
2 cups raw sugar
1 cup sunflower oil
1 cup brewed coffee
4 tsp. vanilla
1 cup semisweet chocolate chips
4 Tbs. apple cider vinegar
Combine all dry ingredients and mix well.

Combine all wet ingredients EXCEPT the vinegar and mix well.

Mix the wet ingredients (again, excepting the vinegar) into the dry ingredients and mix until smooth.


Add the apple cider vinegar and stir.

Oil a baking pan and dust with cocoa.


Bake at 375 for 25-30 minutes until a knife inserted in the center of the cake comes out clean.

Cool, ice, cover with fruit, or otherwise fancify, and enjoy!


















Cinnamon rum butter cream icing

I don't have exact proportions for this one...I just winged it.

Here's an approximate recipe:


1 stick of butter
Powdered sugar
1 tsp. extract of rum
1 tsp. cinnamon
A splash of half-and-half



Start with softening the butter. Mix in sugar until you have the desired consistency, add rum extract and cinnamon, and incorporate half-and-half to achieve exactly the right spreadability.



The birthday girl serving the second of the two cakes...